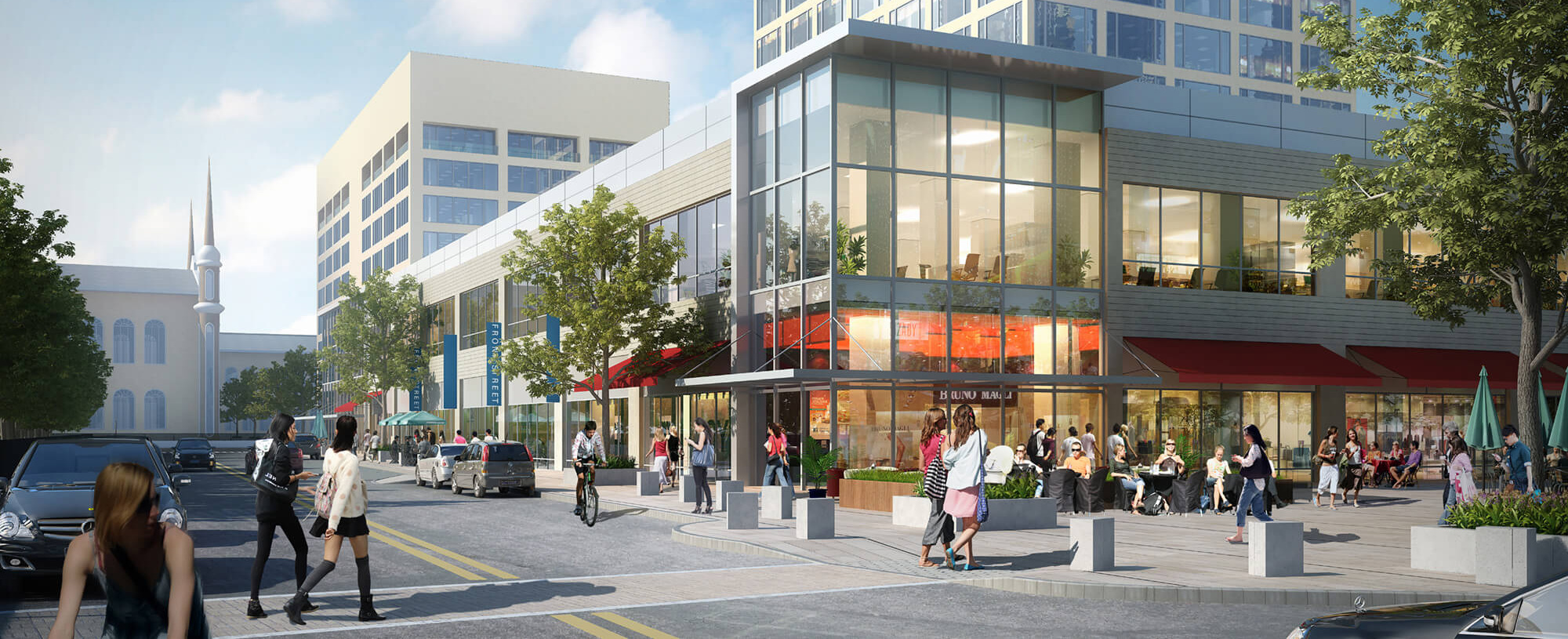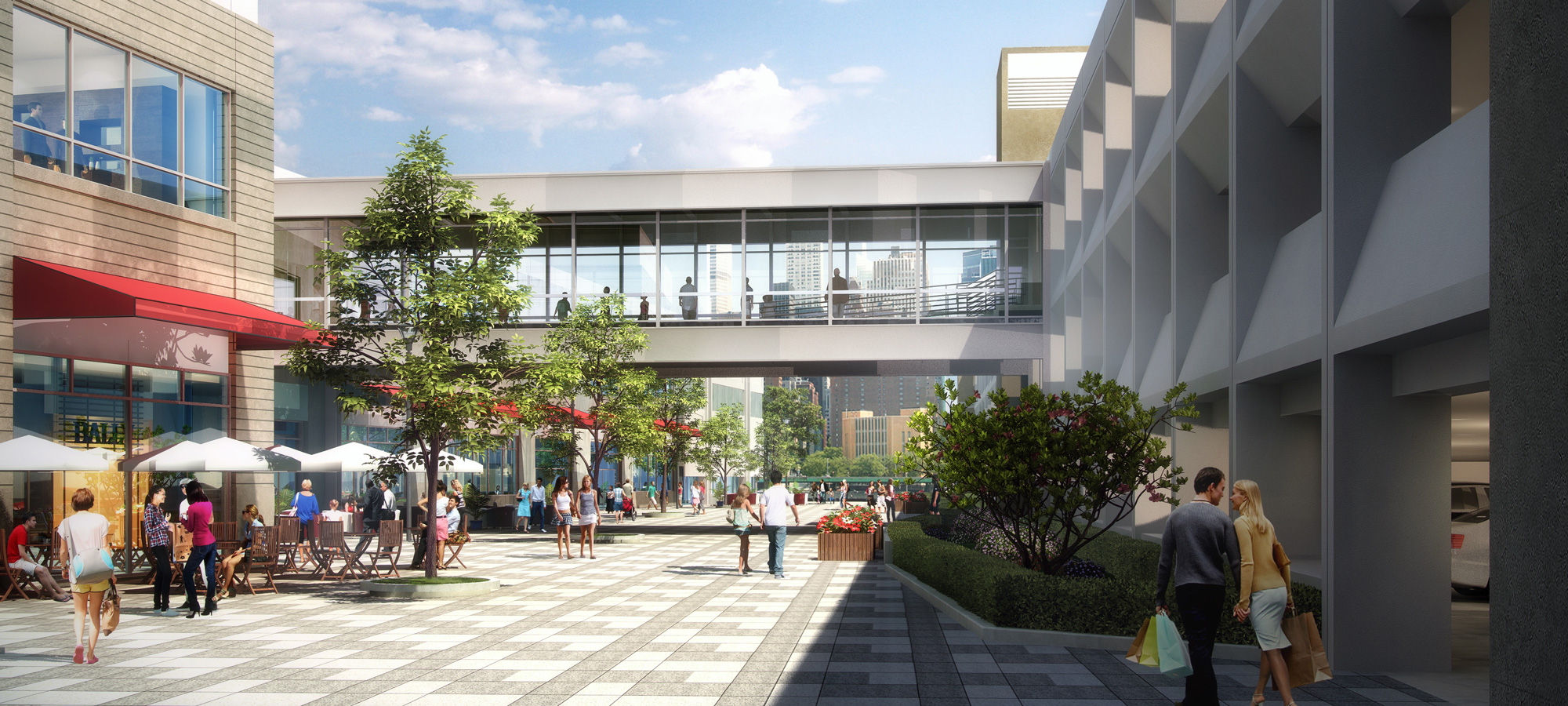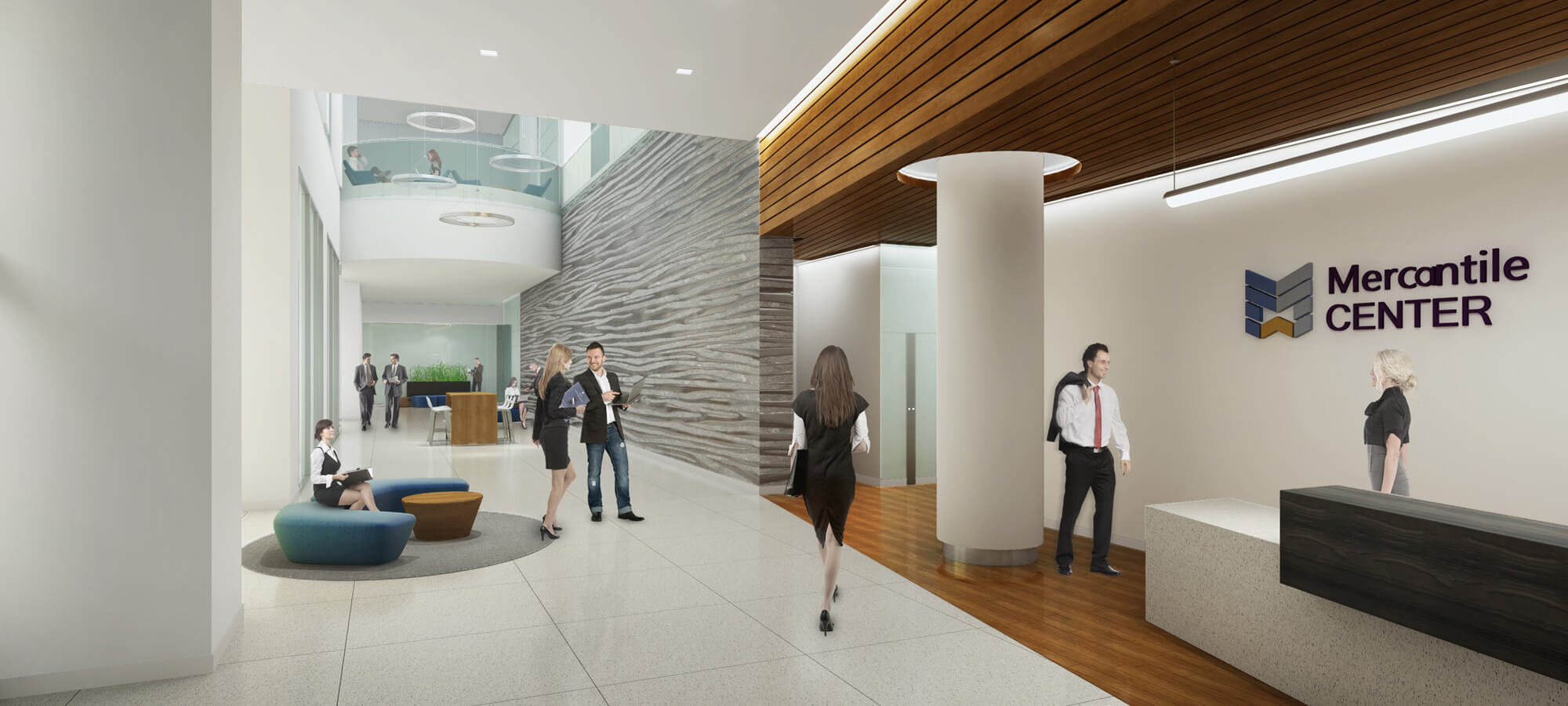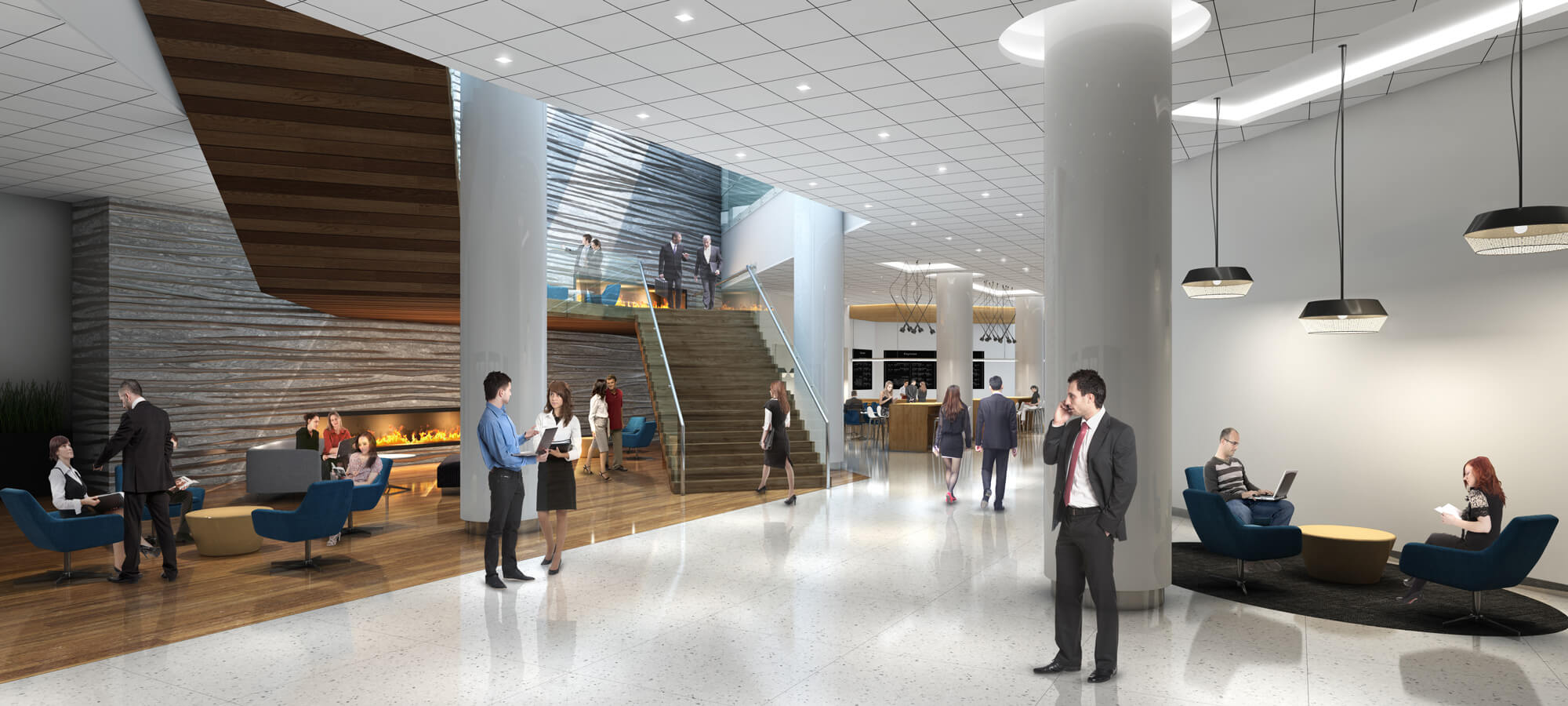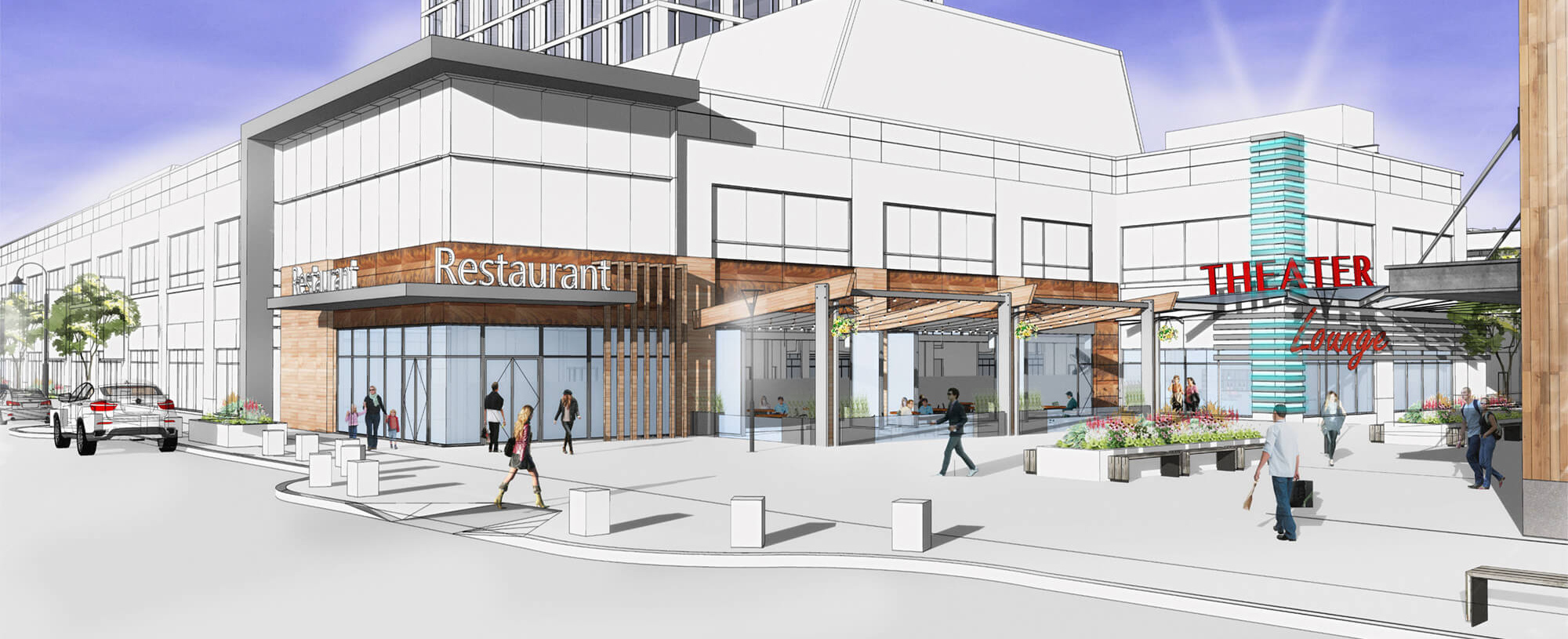 Mercantile Center is the premier mixed-use
property in downtown Worcester.
---
Mercantile Center is comprised of two best-in-class office towers at 100 and 120 Front Street containing 642,300 square feet of office and retail space, and a 1,647 space structured parking garage (the "Property").
| Property | Size | Floors | Type |
| --- | --- | --- | --- |
| 100 Front Street | 267,800 RSF | 21 | Office |
| | 200,600 RSF | 2 | Mixed-Use |
| 120 Front Street | 161,400 RSF | 9 | Office |
| 2 Mercantile | 12,500 RSF | 2 | Mixed-Use |
| Total Office & Mixed‑Use | 642,300 RSF | | |
| Commercial Street Garage | 1,647 Spaces | 5 | Parking Garage |
The Property was recently purchased by a venture between Franklin Realty Advisors and Great Point Investors. The owner has capital available to:
Improve 183,000 square feet of vacant space as it is leased
Fund tenant improvements in 74,600 square feet of space leased to UMass Memorial Health Care
Complete building façade improvements and entirely renovate the main lobbies of both buildings to a level yet unseen in Worcester
Make capital repairs to the Commercial Street garage
Mercantile Center is part of City Square, a $565 million multi-phased project in the heart of downtown Worcester that represents one of the largest public-private development projects in Massachusetts outside of the Boston Area.
City Square includes:
Unum Group's recently completed 214,000 SF LEED Silver office building
Saint Vincent's Hospital's new 66,000 SF cancer center
DCU Center's expansion and renovation
The opening of Quinsigamond Community College's downtown campus
More than $25 million in site infrastructure invested by the current developer, the City of Worcester and the Commonwealth of Massachusetts
Next in line to complete this massive redevelopment project, and adjacent to Mercantile Center:
A 158 room AC Hotels by Marriott (1)
A 550 space underground parking garage funded and constructed by the city (2)
A 370 unit residential development with 479 parking spaces (3)
Massachusetts College of Pharmacy and Health Sciences' ongoing expansion of its downtown campus (4)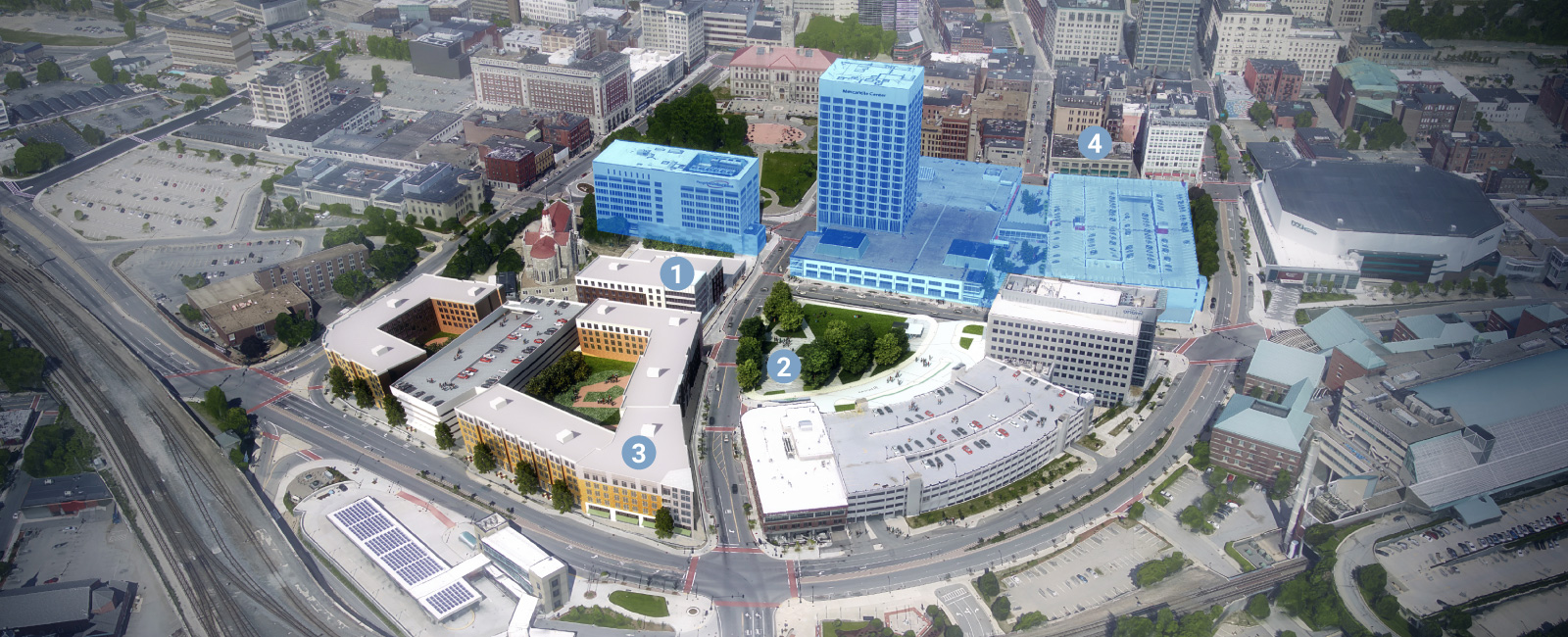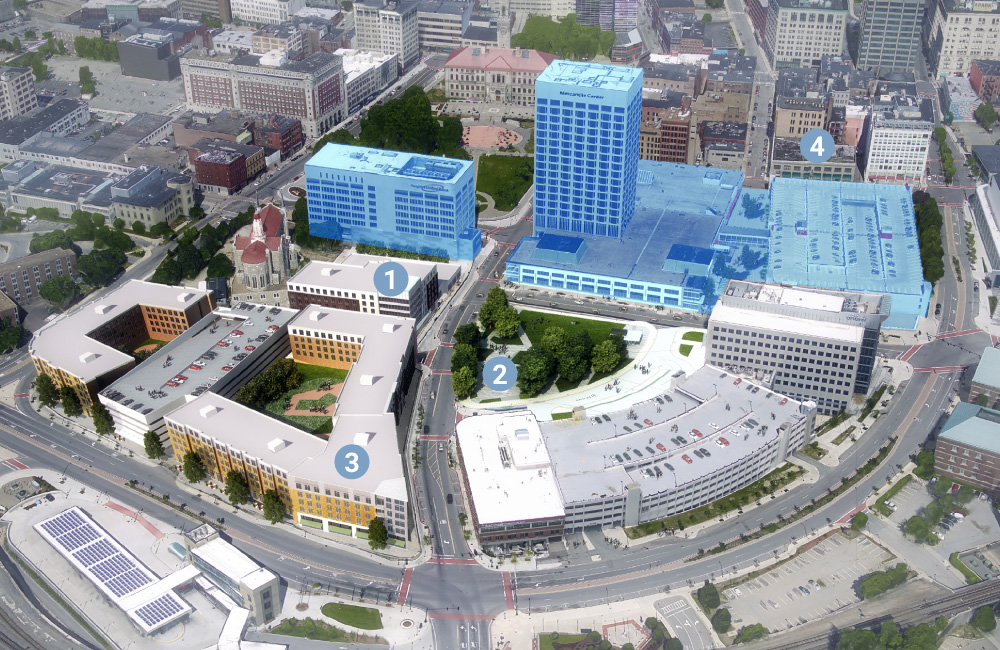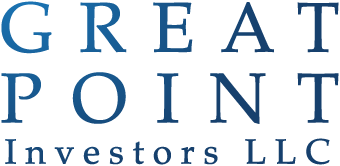 Great Point Investors LLC
Two Center Plaza, Suite 410
Boston, MA 02108
gpinvestors.com
Great Point has been a registered investment advisor since 1998 and has acquired and managed assets for six different separate account clients. Its portfolio currently contains nearly ten million square feet of commercial real estate.
Since inception, Great Point has made over 120 purchases in more than 30 different markets in the United States. Its experience includes core, value-added and opportunistic investments using both joint venture structures and direct purchases.
Its client for the Mercantile Center transaction is the combined pension and annuity funds of the New England Carpenters. Great Point has managed this account since 1991 with about $300 million of assets under ownership today.
Locally, Great Point owns the 200,000 SF Lake Williams office park and sold (at the end of 2014) the 500,000 SF Solomon Pond Park on I-290 and I-495.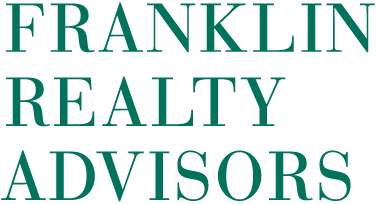 Franklin Realty Advisors LLC
36 Washington Street, Suite 390
Wellesley Hills, MA 02481
users.rcn.com/fra
Franklin Realty Advisors LLC is a regional real estate development and advisory firm headquartered in Wellesley, Massachusetts with specific expertise in public/private partnerships and historic preservation projects throughout the northeast region of the United States.
The firm's activities have included a broad range of real estate projects including:
Office Buildings
Hotel and Conference Facilities
Residential Buildings and Subdivisions
Industrial and Business Parks
Retail Centers
Mixed-Use Entertainment Projects
Parking Garages
Over the past 25 years, the firm and its affiliates have developed, acquired and/or managed more than $1 billion of real estate projects throughout the United States. The firm's partner and client list includes Fortune 100 corporations, financial institutions, pension advisors, investment banking firms, governmental entities, and investment partnerships. As a result of working with this diverse array of partners and clients, the firm is capable of meeting the most demanding standards of service and accountability.
Franklin Realty has acquired, developed, operated and sold over $100 million worth of commercial real estate in Worcester over the last 30 years, including the development of the current 55,000 SF Reliant Medical Clinic on Gold Star Boulevard, Chestnut Place, a 222,000 SF office complex, 300 and 385 Grove Street, two medical office buildings and Worcester Business Center, a 280,000 SF suburban office building that was redeveloped and leased over the last five years.